Age: 38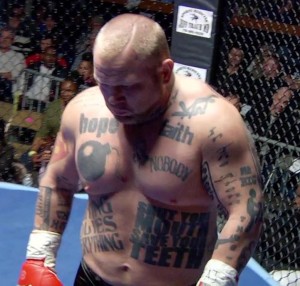 Bio: I started training in 1998. I have never took a martial arts class in my life. I have trained under pro fighters John Renken, Jason Godsey, Dan Christianson, Yves Edwards. Then I started teaching at every fight gym in the Clarksville area. I was the head MMA coach and trainer at extreme fitness, Olympic 24 hour fitness, SSF, fight club and now I teach at Harris Holt.
Titles Held: I was the ECI heavyweight champion for 5 years. I have more wins by leg lock in professional MMA then any other fighter, I have over 100 professional fights, I have fought 26 UFC veterans, I have went to a judges decision with UFC champions Ken Shamrock, Dan Servern, Ricco Rodriguez. I have fought on pay per view and national television.
My goals are to fight for a couple more years and end on a long winning streak.