Grappling Camp Was A Success!
Our grappling camp had a great turnout this year. The students learned many new techniques, worked several new drills, and competed in an in-house tournament at the end of the week. As a reflection of their hard training, they all have gone on to place very high in multiple competitions!
---
Jacob Kilburn Defends His Title and Is Turning Professional!
This past weekend Jacob Kilburn defended his Hardrock MMA title and finished highly ranked and respected Shawn Nickell in just over 90 seconds via guillotine choke! He will be heading into the professional ranks with an 8-3 amateur record. Keep up the hard work Jacob!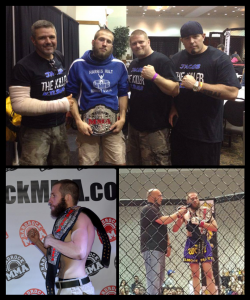 ---
Harris Holt Combat Sports Performs at Rivers & Spires!
On Saturday, April 16th a few fighters and a few members of the junior competition team got a little stage time at Rivers & Spires at the Third & Main Stage. The fighters came out and showed some hard hitting combos on the thai pads and the juniors demonstrated some throws and submission holds for the crowd.
---
Kyle Brees Becomes a Combatives Champion!
This past weekend Kyle Brees entered the All Army Combatives Tournament at Fort Bragg. It was a three day event, with hundreds of competitors in attendance. He won all his matches and won the championship match via armbar in about a minute.
---
Kilburn Wins Big In Evansville
Jacob "The Killer" Kilburn picked up a 1st round TKO in his kickboxing match at Hook N Shoot Hall of Fame Night. His match was originally slated to be an MMA match, but blood work problems on his opponents end, did not allow for the fight to be an MMA match.
---
MMA Class Monday, September 14
Coach Johnathan Ivey will be in town to teach the MMA class on next Monday, September 14th, 2015. He is a wealth of knowledge and always covers good material. Make plans to attend!
---
Three Harris Holt Fighters Set to Compete at Hook N Shoot
George Byard, Jacob Kilburn, and Julian Barnette are booked for Hook N Shoot Fight Night/Hall of Fame Night on 9/26/2015. Byard will be making the drop to welterweight for the first time. Kilburn was scheduled to fight for the bantamweight title, but an unfortunate injury on the champion's end has put that on hold. Kilburn will now be fighting at his normal weight class of featherweight. Barnette, who is preparing for his MMA debut, will be fighting a kickboxing match at light heavyweight. Please come support these hard working men attempt to pick up a win in Evansville.
---
Kilburn Captures Another Amateur Title
Jacob "The Killer" Kilburn earned another win and became the Hardrock MMA featherweight title in an exciting back and forth match in Bowling Green, KY.
---
Kilburn Wins at Hook N Shoot
Jacob "The Killer" Kilburn won his fight at Hook N Shoot via Decision. He displayed a variety of Judo throws and used great forward pressure to earn the victory.
---
Tetley Earns Another First Round Stoppage
Kyle "Baby Hulk" Tetley won his kickboxing match for IFC via 1st round TKO! He utilized excellent head movement and properly timed combinations, that ultimately led to the referee stoppage.
---
Holiday Special
Limited time offer! Contact us for details on how you can take advantage of 1 month of free classes!
---
Tetley to make IFC debut
Kyle "Baby Hulk" Tetley is set to make his IFC debut on January 10th in Cannelton, IN
---
New Saturday Kickboxing class
We will be adding a new kickboxing class on Saturday at 5pm at Building 1
---
Cage'd Up Magazine's Gym of the Month
We were Cage'd Up Magazine's Gym of the Month! Stay tuned for more info!